Education
Virtual Learning
COVID-19 Update: As needed, our programs have been modified to meet classroom social distancing requirements and/or to accommodate remote learning.
Visit "Archie" and company virtually! Our educators and scientists interact with participants on a variety of science and natural history topics through live, interactive videoconferencing programs. Programs are designed to fit within your schedule, curriculum or interest areas, and are aligned with state and national science standards. Many of our programs include a physical kit with hands-on materials to enhance your visit.
Search topics below by curricular area or grade level. Adult and out-of-school time programs are available too!
SCHOLARSHIPS
Thanks to the generous gifts from the Roger's Foundation and the Friends of the University of Nebraska State Museum, Nebraska K-12 teachers can be considered for scholarship funding to cover the Virtual Field Trip classroom fee. Complete the "Description of Need" section within the Virtual Field trip reservation form.
---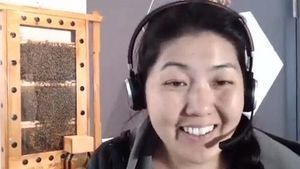 The Buzz on Bees Science Chat
ONE DAY ONLY │May 11, 2021
It's spring and the air is buzzing! Did you know - we have over 20,000 species of bees worldwide, 4,000 species in North America, and several hundred species of wild bees in Nebraska, but only one species of honey bee? Dr. Wu-Smart loves all bees and as the entomologist guiding the UNL Bee Lab, she spends her days learning about and working for bees. Come learn fun facts about honey bees, wild bees, their unique nesting and foraging behaviors, and why we need bees to stay healthy.  
45 minutes │ All times are CST │Recommended for K-5
$70 per building/per time (unlimited connections per building/per time)
Click on the appropriate time(s) below to register:
9:30 a.m. (Teams) │10:30 a.m. & 2:00 p.m. (Zoom)
---
Curricular Area
Grade Level
Learners of All Ages
---
Program Fees
| REGULAR PROGRAM FEES: | 15 minutes: | 30 minutes: | 45 minutes: | |
| --- | --- | --- | --- | --- |
| In Nebraska (Schools, Libraries, Educational non-profit): | | $80 | $100 | |
| Outside of Nebraska and/or CILC Member: | | $100 | $125 | |
| CILC Premier Member: | | $90 | $100 | |
| SCIENCE CHAT FEE: | $35 | | | |
---
Program Details
MAXIMUM CAPACITY: 30 participants
SIGN-UP: 2-3 weeks advance notice appreciated
KITS: Mailed to you prior to the scheduled virtual field trip. You are responsible for the return mailing costs of kits.
TECHNOLOGY DELIVERY MODE:
Zoom, H323 IP (Polycom, Cisco, LifeSize, etc.)
Audio/Video tests by request only.
Please contact us if you have questions about your technology needs.
SCHOLARSHIPS: Don't let cost be a barrier! Support may be available for your classrooms. Email the Museum Reservations Office at elephant@unl.edu for more information.
RESCHEDULING: If a virtual field trip needs to be rescheduled due to unforeseen technical or weather events, we will try to reschedule within the following two weeks at no extra charge.
CANCELLATION POLICY: Cancellations must be made at least 7 days prior to the scheduled virtual field trip. Failure to cancel in advance will result in being charged the full price of the program. There is no charge if your program is canceled due to weather or unforeseen technical problems.
Concurrent virtual field trips are encouraged within a school. We request classes be held on same day. Fees will be negotiated.
For specific class information contact the Virtual Learning Coordinator.