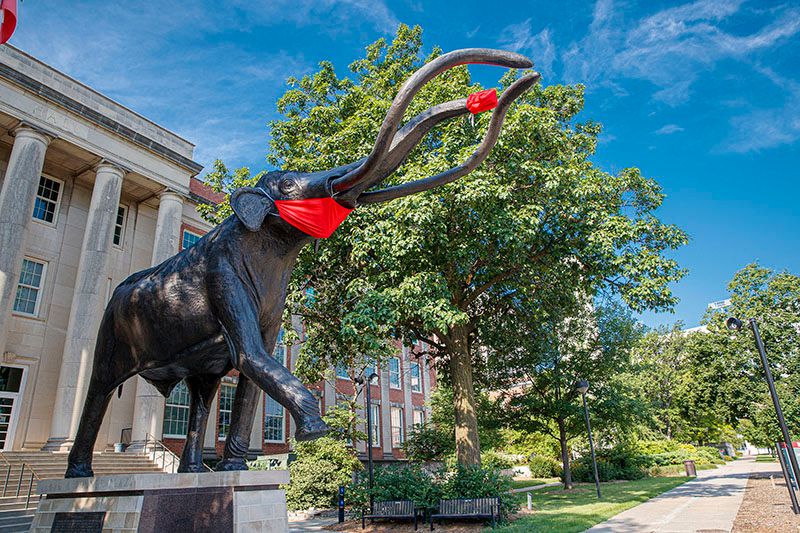 Visit
Timed Tickets
Ticket Policies
Advance ticket purchase is required.
All ticket sales are final and non-refundable. 
Tickets are sold on a timed basis each day. A limited number of tickets are available each hour. 
Every member of the party must have a ticket, even children under the age of 4, UNSM members, and UNL students/faculty/staff.
Members will be required to show membership card at entry.
Those claiming veteran/military discount must show military ID at entrance.
Those claiming Museums for All discount must show WIC/EBT at entrance.
Check-in Procedures
These procedures are in place to ensure social distancing capacity levels are maintained for the safety of all visitors to Morrill Hall. 
Visitors must check in during the first 30 minutes after the time indicated on the purchased ticket.
No early entry allowed.
Museum entry is forfeit and the ticket is invalid after the 30-minute check-in time has elapsed.
Once in the Museum, visitors may take whatever time they desire to explore exhibits. 
Purchase Tickets
Tickets are available starting 1 week in advance. 
Thursday, October 29, 2020
9:30am     10:30am     11:30am     12:30pm     1:30pm     2:30pm     3:30pm
Friday, October 30, 2020
9:30am     10:30am     11:30am     12:30pm     1:30pm     2:30pm     3:30pm
Saturday, October 31, 2020
9:30am     10:30am     11:30am     12:30pm     1:30pm     2:30pm     3:30pm
Sunday, November 1, 2020
12:30pm     1:30pm     2:30pm     3:30pm
Wednesday, November 4, 2020
9:30am     10:30am     11:30am     12:30pm     1:30pm     2:30pm     3:30pm