Construction Timeline
Morrill Hall began a deferred maintenance and renovation project in May 2023. The project will address energy conservation, improved ADA access, installation of a new HVAC system, refurbishment of a classroom, and updates to museum lighting systems and flooring. As part of the renovation, Morrill Hall will close to the public from October 2, 2023 through Mid-January 2024.
Morrill Hall Closure FAQs
Why is Morrill Hall closed?

Morrill Hall is undergoing the largest renovation project in the museum's history. While we hoped to remain open throughout the process, the renovation work is taking longer than anticipated. The next steps of the processwill be loud and we do not want this noise to negatively impact our visitor's experience. Closing will allow us to finish this work more rapidly and with less visitor disturbance than continuing construction on a phased system.
How long will the closure last?

Morrill Hall will be closed from October 2, 2023 through mid-January 2024.
What is changing in Morrill Hall during the closure?

The renovation work will make Morrill Hall more accessible and welcoming, providing greater access to facilities and exhibits. In addition, new HVAC and lighting systems will be installed, as well as the creation of a new classroom space to expand our educational opportunities. We will also be taking this opportunity to update and refresh some of our exhibits.
Which exhibits will be impacted by the work?

The African animals exhibit on the first floor has been removed and will be replaced by a new exhibit (details coming soon). Some additional upgrades are planned for select exhibit spaces on first and second floors.
Are the Dolan murals going to be impacted by construction?

No, the Dolan murals will remain visible to museum guests, even after renovations are complete. A conservation committee is working with the museum to provide guidance on preservation of the murals.
What will happen to the Marx Discover Center?

The Marx Discover Center will move from its temporary location on second floor back to its original location on the museum's first floor and will be available to visitors when the museum opens again in January.
Can I book a group visit to Morrill Hall?

Morrill Hall will not be open to visitors during the closure; however, reservations can still be made for when the building reopens (mid-January). UNL Faculty who would like their students to utilize the museum should contact the education department at elephant@unl.edu. Students must arrive as a group and will be limited to Cherish Nebraska (4th floor) only.
Can I book a Virtual Learning Program or Museum Science Kit?

Yes, our education team will still be offering virtual learning programs and rentable science kits for classrooms and groups. Details on reserving a program or kit can be found online: https://museum.unl.edu/education/virtual-off-site-learning.html
Can I still visit the planetarium?

No, the Mueller Planetarium will also be closed during the renovation work.
Can I visit the Discovery Gift Shop?

No, the Discovery Gift Shop will be closed during the renovation work.
Are Ashfall Fossil Beds or Trailside Museum impacted by this closure?

Ashfall Fossil Beds and Trailside Museum will not be impacted by this closure. For more information on their hours of operation visit their websites at ashfall.unl.edu or trailside.unl.edu.
My classes are scheduled to be held in the Morrill Hall auditorium (MORR 141). Will they be impacted?

The Morrill Hall auditorium (MORR 141) will not be impacted by the closure of the Morrill Hall museum. Students should access the auditorium via the south side of the museum as usual.
How will my membership be impacted by the closure?

All current members will receive a 4-month extension of their membership. A new member card will be issued with the updated expiration date.
I wanted to buy a new membership. How will the closure impact memberships purchased during the closure?

All memberships purchased during the closure will have an immediate start date but also receive an extension equivalent to the remaining time of closure for Morrill Hall. This way new members will still be able to visit Ashfall Fossil Beds or Trailside Museum, and take advantage of the ASTC Passport Program immediately.
When will the members-only events take place?

Our team is currently working on these and will be in touch with more information.
I still have questions. Who should I contact?

Additional questions not addressed by this FAQ can be sent to morrillhall@unl.edu.
A panoramic view showing the removal of an old exhibit on the first floor hallway. The Dolan murals on the walls behind the original exhibit will remain in place behind the new exhibit.

A panoramic view showing carpet removal as well as removal of old lighting and prep work for installation of new lighting.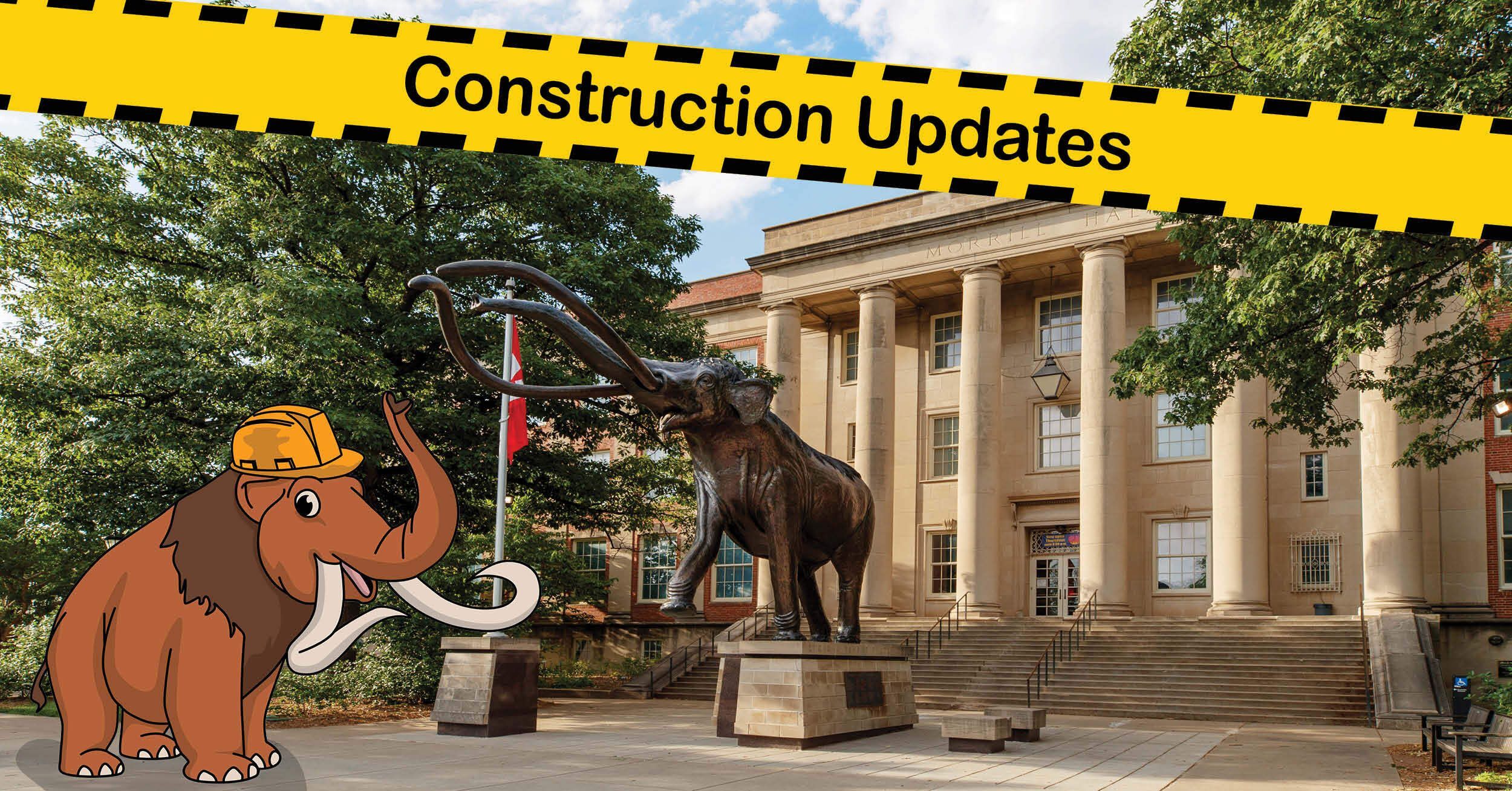 Follow along here as we begin our journey through the deferred maintenance and renovation process. Archie will share updates as work progresses.
Fencing and staging areas for construction dumpsters and materials in place on Morrill Hall's east side.

The Marx Discovery Center is temporarily set up in the 2nd floor Rhino Gallery, complete with a portable dig pit.

Carpeting and display cases have been removed from part of the first floor hallway.