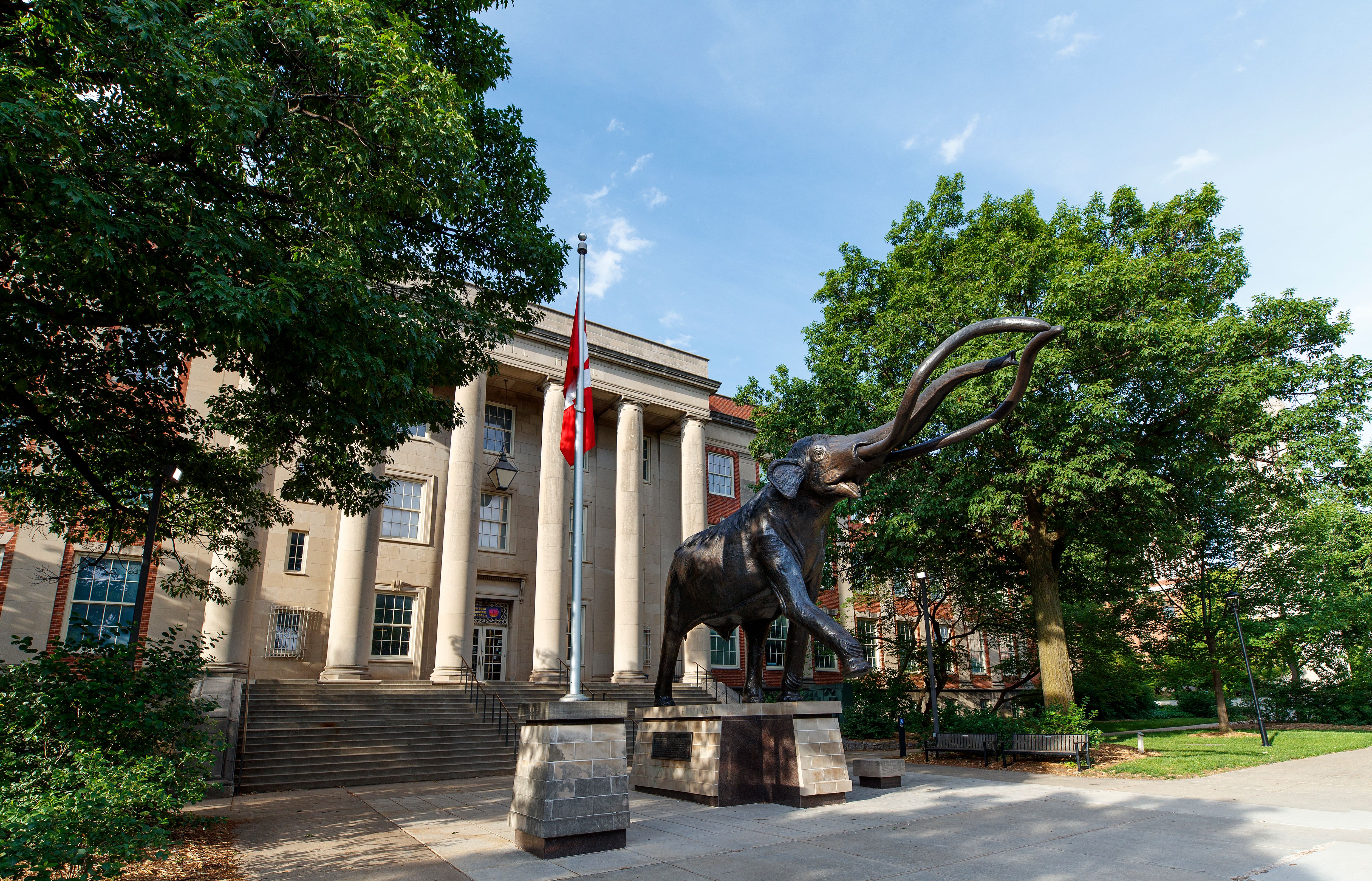 Visit
Directions & Parking
Visitor Parking
Visitor parking spots are located to the east of the building along 14th street. Additional metered spots are available at the entrance of the parking lot north of Morrill Hall at 14th & Vine streets. Garage and metered parking is also available within walking distance to the museum (fee required).
Accessible parking for visitors to Morrill Hall is located on the east side of the building along 14th Street.
UNL faculty, staff, and students are not permitted to use museum parking spaces.
Football Game Day Parking
During Husker football game day Saturdays (including the spring game), there is no parking available in the lot outside Morrill Hall. Visitors may pay a fee to park in other publicly available lots on campus or in parking garages and meters surrounding campus.
The ADA parking stalls to the East of Morrill Hall will remain available, but visitors will be charged the UNL Parking & Transit Services' game day parking fee. 
Public Transport
A bus stop for routes #22, #24, & #25 is available at N14th & Vine, only a 1 minute walk from the main entrance of Morrill Hall.
Bus routes #27 and #49 stop outside of the University of Nebraska Students Union at N14th & R Street. Our Morrill Hall location is a short 5 minute walk from this bus stop.
Bus Drop Off & Parking
Drop Off Instructions
Conventional (standard-sized) buses should come north or south on 16th street, turn onto S Street, turn right onto 15th Street, and drop students off at the corner of 15th and U.
Educators and Tour Guides, once the bus drops you off, please lead your group west between the College of Business and Kauffman Residential Center and enter the Museum through the main entrance.
Shorter buses and vans may come south down 14th street to drop students off and use the circle to turn around. Please note that conventional buses will have to do a three-point turn in order to turn around here.
Bus Parking
Buses can park south of the 14th and Avery parking garage on the south side of the street in front of "Authorized Vehicles Only" and yellow "No Parking Bus Loading Zone" signs. If there is no parking available here, buses will need to park in "Lot 56" north of the Devaney Center at the intersection of Antelope Valley Parkway North and Military Road.
If parking at the Devaney Center, drivers are welcome to walk to the Hendricks Training Complex Lobby on the southwest corner of the Devaney Center (Address: 1600 Court Street, Hendricks Training Complex). The lobby is open at 8 a.m. daily and has padded bench seating, restrooms, and televisions.
Directions
Morrill Hall is located just south of 14th and Vine Streets on the University of Nebraska-Lincoln campus. To reach Morrill Hall from Interstate 80 or Nebraska Highway 2, take 27th Street to Vine Street, then turn west on Vine Street.

Morrill Hall GPS location:
645 North 14th Street
Lincoln, NE 68588-0338