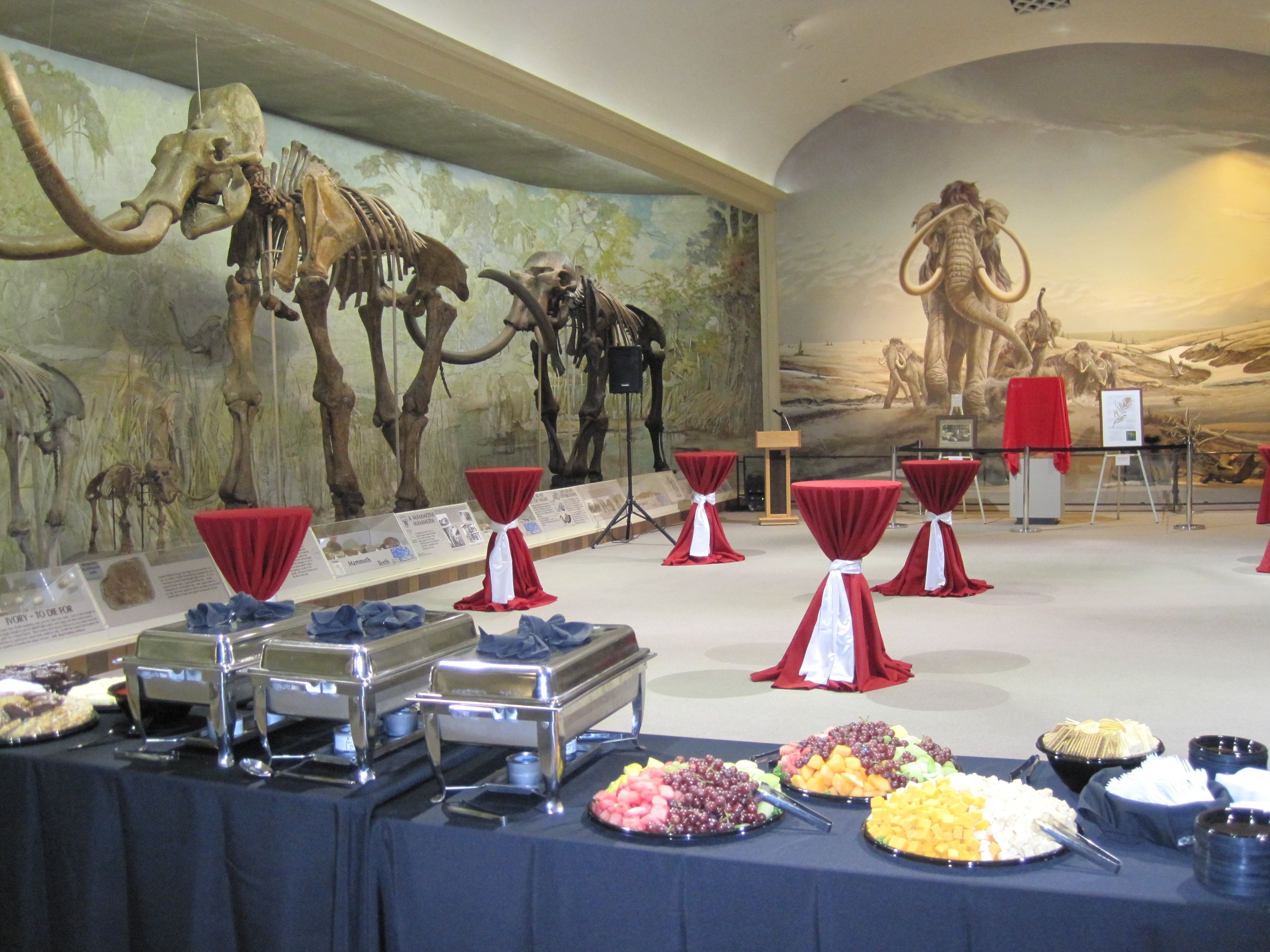 Programs & Events
Rent the Museum
Morrill Hall Rental
Host an unforgettable event at Morrill Hall!
Call (402) 472-3779 or email morrillhall@unl.edu for more information.
Give your guests an experience they will never forget!  Dine among the elephants in Elephant Hall, pose with the plesiosaurs, and give your guests the opportunity to tour all of the Museum's galleries and exhibits in a relaxed environment.  Add on a private tour or Mueller Planetarium show to make your event even more special.
See the Museum Facility Reservation Request Form for pricing information.
A variety of Morrill Hall spaces are available for rent including:
- Elephant Hall (85 seated, 120 standing reception)
- Conference Room (12 seated)
- Education Resource Room (40 seated)
- Science Exploration Zone (40 seated)
Frequently Asked Questions
Q. What kind of an event can I have at Morrill Hall?
A: Almost any kind! Weddings, corporate events, receptions and parties, formal dinners, etc. Please note fundraising activity is only allowed if proceeds are to benefit a UNL department or program.
Q: How much does it cost to rent Elephant Hall?
A: Private individuals or corporate groups $800, non-profit organizations $600, or UNL groups $350.
Q: How much does it cost to rent the Science Exploration Zone?
A: Private individuals or corporate groups $200, non-profit organizations $150, or UNL groups $150.
Q: How much does it cost to rent the Education Resource Room?
A: Private individuals or corporate groups $200, non-profit organizations $150, or UNL groups $150.
Q: How much does it cost to rent the Conference Room?
A: Private individuals or corporate groups $150, non-profit organizations $100, or UNL groups $100.
Q: Is a deposit required?
A: A deposit equal to 25% of the museum event rental fee is due upon reservation. The final amount minus the deposit is invoiced one week post event and is due within 30 days. Deposits are non-refundable for cancelled events.
Q: Do I need to provide liability insurance?
A: Non-UNL groups are required to provide a certificate of liability insurance. Individuals may purchase special event coverage online at http://bmispecialevents.com/. (Use code 30881804 for UNL). Price varies.
Q: What areas of the museum can we use?
A: Your rental fee covers the use of the room you select, as well as access to view all museum exhibits and galleries.
Q: Is parking available for my guests?
A: Parking in front of the museum is arranged through our office with UNL Parking & Transit. You may request as few or as many stalls as you need; parking is subject to availability. Permits are $5.00 Saturday-Sunday and $7.00 Monday-Friday.
Q: Can I have my event at Morrill Hall catered?
A: Yes, you are free to hire any caterer off the UNL-Approved Food Providers list.
Q: How early may I start setting up for my event?
A: You may begin setting up as soon as the galleries are closed to public: 4:30pm. If you need to have your catering, tables, etc. delivered before this time, please let us know. We will need to direct your deliveries to a suitable holding location, until your scheduled set-up time. We appreciate your cooperation in keeping all galleries and exhibits fully accessible to the public, until we are closed.
Q: How do I arrange for tables, chairs, or other such items I may need?
A: Tables, chairs and A/V equipment are NOT included in your event rental. We have a number of museum rentals available for your convenience, including:
Banquet Tables - 6' (20 available) - $5.00 ea.
Round Tables - 60" (15 available) - $8.00 ea.
Cocktail Tables (10 available) - $5.00 ea.
Chairs (90 available) - $1.00 ea.
Podium, Microphone (wireless or stationary), and Speaker - $75.00
Any items needed not on the list above, will need to be rented from local vendors by the event sponsor. We do not coordinate item rentals outside of those available on the list. Most caterers are willing to make these arrangements for you. However, if you are not having a catered event, or prefer to make the arrangements yourself, you can find suppliers via an internet search.
Please note: tables, chairs, and other such equipment must be folded, stacked and set aside in designated areas, ready for vendor pick up immediately following your event. You will be charged a minimum of $150 for failure to adhere to this guideline.
Q: Who will clean up at the end of my event?
A: As event sponsor, you are responsible for all clean up, and removal of food and drink, immediately following your event. Please be sure to communicate with your caterer and vendors, to ensure all clean-up is arranged to take place the same evening as your event. We do not have guaranteed staff available to assist with clean up.
Q: How late can my event go into the evening?
A: You may request an end-time suitable to your event, however we do request all events end by 12:00 am, including clean-up.
Q: How do I make a reservation for my event?
A: Please submit a Facilities Reservation Request Form. Please keep a copy for your records. Once your request is approved by the museum and UNL administration, you will receive a confirmation letter from us specifying the terms of your rental.
Q: When we rent Morrill Hall facilities for our event, does the Museum or the University become a co-sponsor of our event?
A: No. Rental of Morrill Hall facilities does not imply endorsement or co-sponsorship of the event by Museum or UNL.