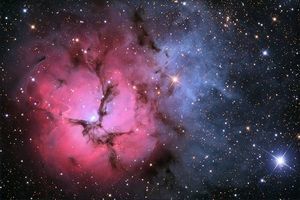 Activities Calendar
Cosmos & Cocktails

SOLD OUT
Thank you for your interest in this event. Our spring Cosmos & Cocktails is now sold out. 
Cosmos & Cocktails
With stars in your eye and cosmos in your hands, enjoy an adults-only (21+) night out at the museum. Cosmos & Cocktails includes a live-narrated planetarium show, dinner, drinks, flowers, museum exploration, and some fun activities. Wander the museum, drink in hand, and explore four floors of natural history and world cultures exhibits. Enjoy exclusive looks at museum artifacts brought out specifically for this event, or chat with experts from our partner organizations. Learn about love among the stars in a special, live-narrated planetarium show. There's something for everyone to enjoy at this event.  
Dine among the mammoths. Enjoy an Italian buffet provided by Premiere Catering, and wine tasting hosted by Meier's Cork and Bottle in our iconic Elephant Hall. The buffet runs the duration of the event, so eat and explore, or explore and eat. Enjoy the evening on your own schedule.
---
Menu: 
Chicken Parmigiana with Marinara and Mozzarella Cheese 
Baked Lasagna with Meat Sauce 
Vegetable Pasta Primavera 
Garden Greens 
Focaccia Bread 
Choice of Archie Bar – chocolate bars custom made by Lincoln chocolatier Lulubee Artisanal Chocolates.  
Wine tasting - Choose 3 wines to sample. Additional wine, beer, and cocktails available for purchase. 
Planetarium Show: 
"Love Among the Stars" is a live-narrated show that explores Greek and Roman mythology and love stories recorded among the constellations. There will be three separate showings: 6:45pm, 7:30pm, and 8:15pm. Tickets for respective showtimes are selected on a first-come first-serve basis at event check-in. Event registration guarantees a seat for at least one showing.  
Flowers: 
Build your own bouquet of flowers to take home with stems provided courtesy of Trader Joes.  
Activities: 
The Universe at Your Fingertips: Have you ever wondered how those amazing NASA images get created? Learn how to do it yourself with our new Observing With NASA exhibit. Work with real data from NASA telescopes and satellites. The Observing with NASA Exhibit and programs were developed by the Center for Astrophysics, Harvard & Smithsonian with support from NASA's TEAM II Program.   
Language of the Heart: View artifacts from the UNSM anthropology collection, brought out exclusively for this event, featuring varying uses of heart motifs across different cultures.  
Clash of the Mammoths: visit with our UNSM vertebrate paleontology team and learn about how two bull mammoths battled to the death over mating rights and their fossils ended up preserved in a display at UNSM's Trailside Museum location. 
Explore activity stations offered by our museum partners: Strategic Air Command & Aerospace Museum, Lincoln Parks & Recreation, Pioneers Park & Nature Center, and Nebraska Arboretum 
---
Refund Policy: 
Tickets are refundable up to one week prior to the event. After February 4, tickets will be transferable but not refundable.  
Notice: Cosmos & Cocktails is an adults-only (21+) event with alcohol service. Age verification via ID will be conducted. Under-age participants will be denied entry without refund.  
---
Thank you to our partner organizations for hosting activities at the event.