Floor Maps
Morrill Hall Second Floor Map
Morrill Hall - Second Floor: Paleontology of Nebraska
Walk through the history of life and see spectacular fossil discoveries. Visit our world famous collection of ancient elephants. Touch a two billion year old fossil. Walk on the longest marine fossil. Become a paleontologist with our interactive exhibits.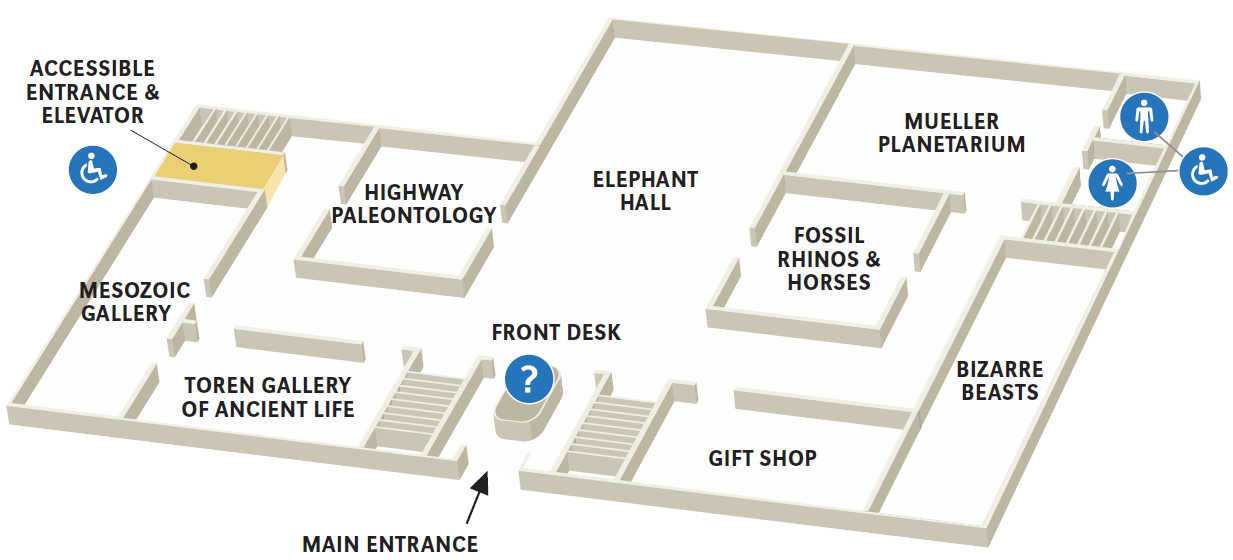 Elephant Hall
See skeletons and mounts of modern and ancient elephants, including one of the world's largest mammoth skeletons.
Ralph Mueller Planetarium
Featuring the FULLDOME EXPERIENCE, a 360 degree immersive cinema experience. Show times and fees >>
Bizarre Beasts
This dramatic exhibit takes visitors on a journey back in time as they explore the forces that caused some of planet Earth's most strange creatures to adapt to different environments--and ultimately become extinct.
Toren Gallery of Ancient Life
This gallery includes scenes and specimens showing Paleozoic life.
Mesozoic Gallery
A gallery on the "Age of Dinosaurs" featuring Nebraska fossils of Mesozoic creatures. Enter a dig-site, view ancient sea giants and use interactive paleontology exhibits.
Fossil Animals
Features extinct rhinos, giant camels, ancient horses and recent donations to the Museum's Paleontology division.
Discovery Shop
A place to shop for unique gifts and souvenirs from our collection of books, jewelry, toys and natural history gifts.