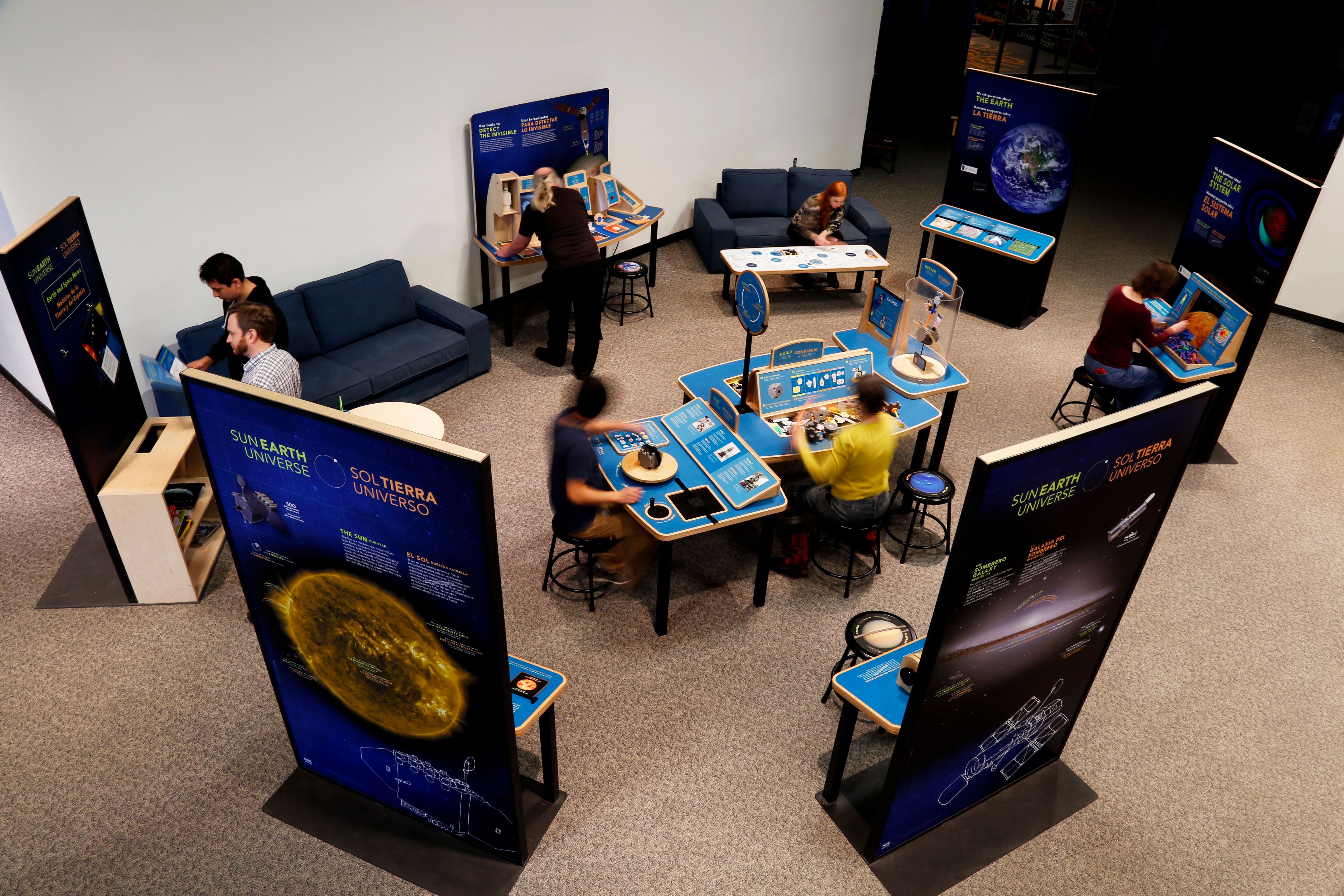 Exhibits
Sun, Earth, Universe
Open through June 2020
Sol, Tierra, Universo
The Museum, in partnership with the Nebraska Center for Materials and Nanoscience (NCMN), were awarded the opportunity to host this fun and compelling new NASA exhibit for visitors of all ages!

Packed with engaging, hands-on interactive exhibits and dazzling imagery, this 600-square-foot exhibition connects visitors with current NASA science research and launches them on a journey to explore the universe!
Follow the design-build-test cycle of engineering and build a model spacecraft for their own mission to space.
Spin a tumbler of 10,000 beads, representing all of the stars we can see from earth to search for the unique one that represents our sun.
Reveal hidden images using the same tools NASA scientists employ to explore the otherwise invisible forces and energy of the universe.
Take a break in the seating area and play the "Your Mission to Space" board game, or help younger visitors pilot rovers across the Mars landscape play table.
These fun exhibit experiences introduce visitors to ongoing research in the fields of materials science, heliophysics, Earth science, planetary science, and astrophysics, and encourage them to imagine what the future of Earth and space science might hold.
Public program events that highlight the exhibit and space content
Saturday, July 20, 2019, 9:30am-2:00pm | Mission Moon

Visitors will learn more about the moon in this special celebration of the 50th anniversary of the Apollo 11 mission. Explore hands-on activities to investigate how the moon moves, the phases of the moon, and so much more! Get your astronomy questions answered by Mueller Planetarium Coordinator, Zach Thompson, and step on the space scale to see what you would weigh in zero gravity!

In addition to interactive activities, the Museum will host special screenings of the Smithsonian Channel Film "The Day We Walked On The Moon" at 10:00am & 2:30pm.
The Sun, Earth, Universe exhibition was developed in collaboration with the National Aeronautics and Space Administration (NASA). Sun, Earth, Universe exhibitions are developed and distributed nationwide by the National Informal STEM Education Network (NISE Network). 

In addition NCMN, Nebraska Nanoscale Facility, and the University of Nebraska State Museum will support the exhibit's travel to six other Nebraska museums: The Children's Museum of Central Nebraska – Hastings; Edgerton Explorit Center – Aurora; Kearney Area Children's Museum; Eleanor Barbour Cook Museum; Chadron State College; Wayne State College A. Jewell Schock Museum of Natural History and the Fred G. Dale Planetarium; and the Strategic Air & Space Museum – Ashland.