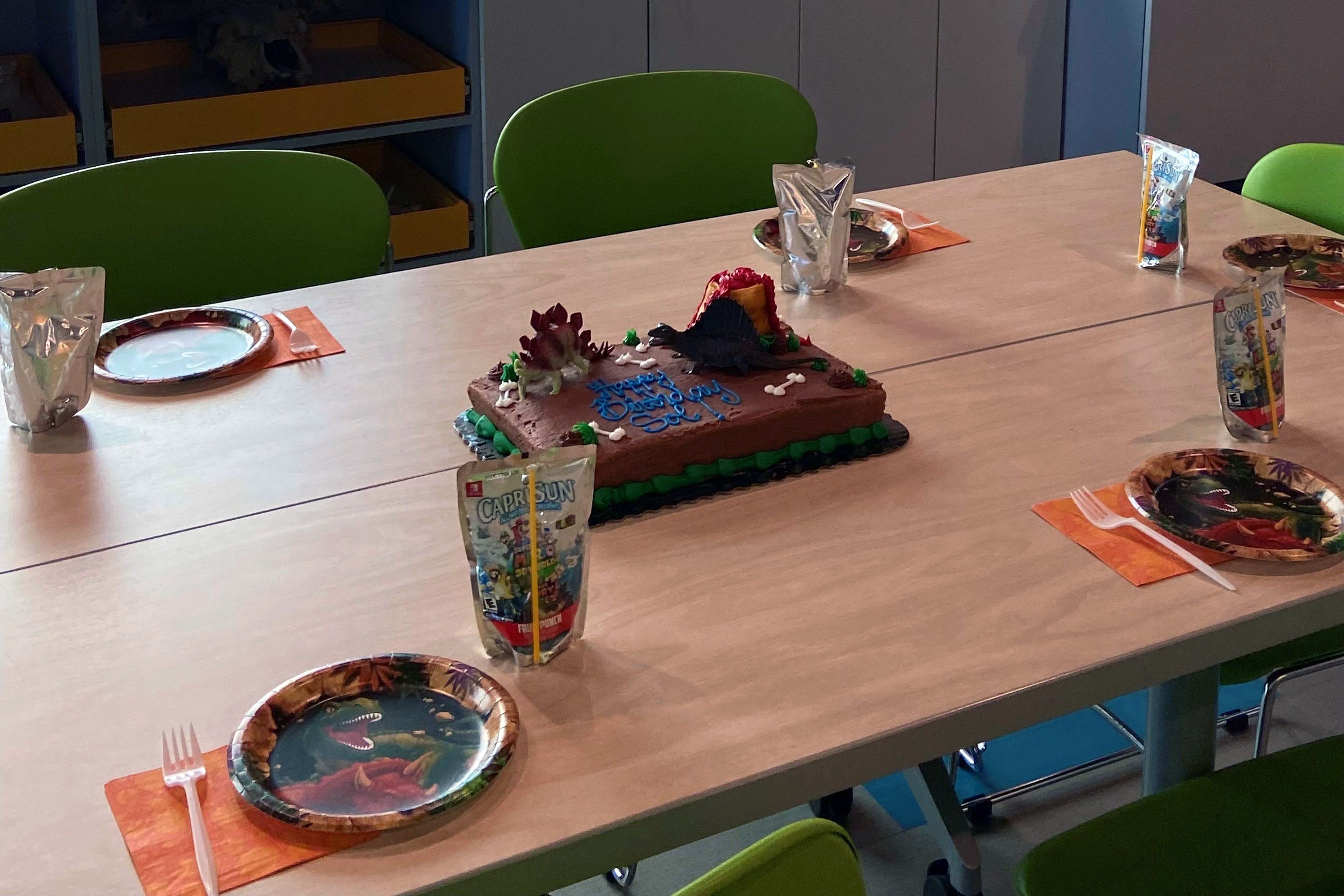 Birthday Parties
Birthday Parties
Morrill Hall Birthday Parties
We take care of everything from start to finish. Your guests will love our Science Exploration Zone, along with fun, personalized activities guided by museum staff. We make it easy, so you can make memories!
Dig for fossils in our Marx Discovery Center.
What's Included
Choose from 2 unique and exciting party themes: Fossil Adventure, or Space Exploration (theme details below). 
Guided museum excursion and an activity relating to your party theme.
Gift bag for each child, including special gift for birthday child.
Museum staff member to set up, run the party, guide the excursion, and clean up. 
Explore the museum after your party is done. 
Plates, forks, cups, and napkins. 
Make it a deluxe party and we'll provide a themed, personalized quarter-sheet cake. 
Basic Information
Each party lasts 90 minutes
Parties are great for children ages 4-10.
Maximum of 12 children, 8 adults.
A museum employee is assigned to help run the party from start to finish. 
We require 1 adult per every 5 kids in attendance at the party to assist with safety and supervision of party guests, with a maximum of 8 adults attending. Up to 8 adults are included in cost of party. Other adults are welcome to pay admission and explore the museum during the party, explore UNL's campus, or leave campus and return to pick up their child up at party conclusion. 
Party Availability
Parties are available for booking on the following dates and times. Please note, we do NOT book parties on home football Saturdays, as no parking is available in our museum parking lot. 
Saturdays: 10 am or 2 pm
Sundays: 2 pm
Reservations should be made 2 weeks in advance
Party Pricing
• Basic Party: $160.00
We provide everything, except the cake and drinks. Included are: plates, cups, napkins, and eating utensils. Maximum 12 children. No outside food is allowed. 
• Deluxe Party: $195.00
We provide everything, including a quarter-sheet themed, decorated, personalized cake and juice. Maximum 12 children. No other outside food is allowed. 

• Museum Members receive a 10% discount on all birthday parties.  Become a Member >>
Cancellation Policy
A non-refundable processing fee of $25 will be retained by UNSM in the event of cancellation.
Cancellations made greater than 2 weeks in advance will receive a full refund, minus the $25 processing fee. 
Cancellations made less than 2 weeks, but greater than 1 week in advance will receive a 50% refund. 
Cancellations made less than one week in advance are nonrefundable, except in situations of extreme extenuating circumstances evaluated by the museum on a case-by-case basis. 
Party Themes