Floor Maps
Morrill Hall Third Floor Map
Morrill Hall - Third Floor
Experience the Explore Evolution exhibit! Discover the heritage of Native American and African cultures. Learn about gigantic dinosaurs from long ago. Examine the rock and mineral collections, and watch for traveling exhibits in the Cooper Gallery.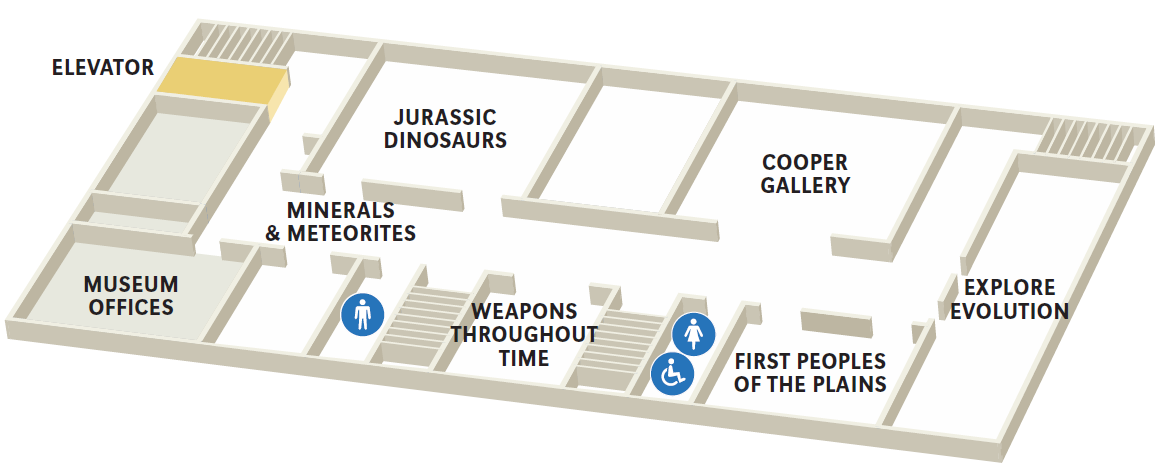 Explore Evolution
Investigate evolutionary principles in organisms ranging from the very smallest to the largest. The project focuses on seven research projects that have made a major contribution to our understanding of evolution.
Jurassic Dinosaurs
Includes a life-sized Allosaurus, one of the largest carnivorous dinosaurs of North America.
Rocks and Minerals
Cases of minerals displaying a spectacular variety of crystal form and color, including Nebraska's State Rock (Prairie Agate) and State Gemstone (Blue Agate), with a small gallery of fluorescent minerals that glow under ultraviolet "black light."
Weapons Throughout Time
This display highlights objects from the museum's collection of hunting, fighting, and ceremonial weapons.
First Peoples of the Plains
A new exhibit celebrates Native American cultures of the past and present by exploring their enduring traditions on the Great Plains.
Cooper Gallery
This exhibit space is home to our latest temporary exhibit.