Activities Calendar
Sunday with a Scientist
Hands-on science for everyone
Meet a different scientist each month to learn about topics and careers in science. Scientists will share what they study in a fun, informal way through hands-on activities, demonstrations, and conversation.
---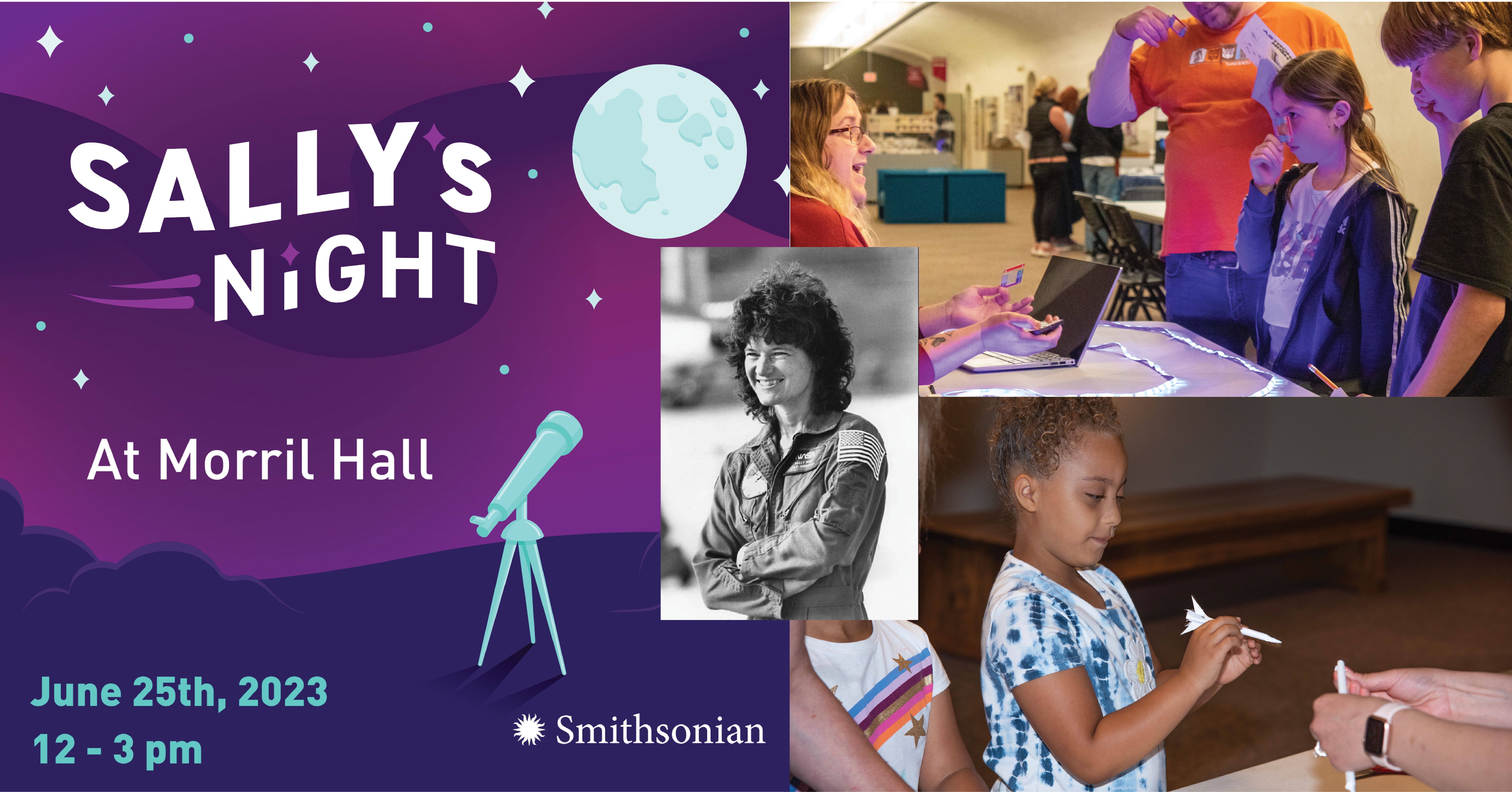 June 25, 2023 from 12:00-3:00pm
Included with admission; FREE for members
Morrill Hall is participating in Sally's Night, a nationwide celebration of women in STEM led by the Smithsonian's National Air and Space Museum, in collaboration with 21 Smithsonian Affiliate organizations. Sally's Night honors Dr. Sally Ride's legacy as an astronaut, physicist, educator, and advocate for young people and celebrates the 40th anniversary of her first space flight. Activities for this event are included with museum admission. Sally's Night will be held in place of the July Sunday with a Scientist.
Event activities
O! Pioneers - UNL Department of Earth & Atmospheric Sciences
A fun matching game looking at "firsts" in the geosciences.
Guess Who? A Woman Did That - Girls in Civil
Come learn about different pioneer women in the fields of civil engineering, construction, and civil works and try some fun board games. 
The Science of Emotion - Cognitive and Affective Neuroscience Lab at UNL
Talk about the ways scientists measure emotion and strategies that can be used to help people regulate emotions. Also learn about the human brain and its capacity for processing and regulating emotion. 
STEM Considerations from Nebraska Archeology - History Nebraska
Learn about different STEM opportunities that archeologists engage in through their work, focusing on materials from archeological sites documented in Nebraska. Also learn about the archeological work of women in Nebraska, particularly that of Mary Louise Callan Freed, the first woman from UNL to receive her Master's Degree in Anthropology. 
Women in Anthropology - UNSM Anthropology Collection
Explore the history of women in the field of Anthropology. Learn about the women who have lead and are leading their fields in cultural, linguistic, and froensic anthropology as well as archaeology and primatology. View objects collected by Luella Buros, an amateur anthropologist in her own right, who donated her collection to UNSM. 
Carrie Barbour: A Passion for the Past - Nebraska Public Media and UNSM
This documentary short highlights the life and work of Carrie Barbour, one of the nation's first female paleontologists and the first female curator at UNSM. This video will be available on a loop in the museum's Science Exploration Zone.