Science Disciplinary Core Ideas
Science Disciplinary Core Ideas
Many of our virtual learning programs support Nebraska College and Career Ready Standards for Science and Next Generation Science Standards. 
---
Science Chats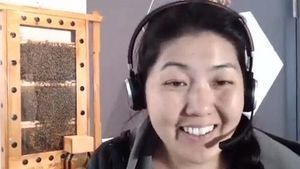 Grades K-12, General Public, Life-long Learners, Libraries
15 minutes
$35 per session
University of Nebraska - Lincoln scientists are ready to personally share their passion for science and their science careers with your students and other audiences. Within a 15 minute session, your group will speak with a scientist about their research, science career paths, and educational experiences. Speaking from their lab, outside with the birds, or surrounded by fossils, a scientist will describe what makes their work amazing and important. Your audience then takes the lead with questions.
When registering, please request your desired date and time, as well as a preferred science content area. We will do our best to line up one scientist that matches your needs. Requests for Science Chats must be made a minimum of 3 weeks in advance.