Hubbard Lecture
Hubbard Lecture
First Peoples of the Plains is an annual lecture dedicated to advancing the understanding and appreciation of the cultural heritage of the First Peoples of the Plains.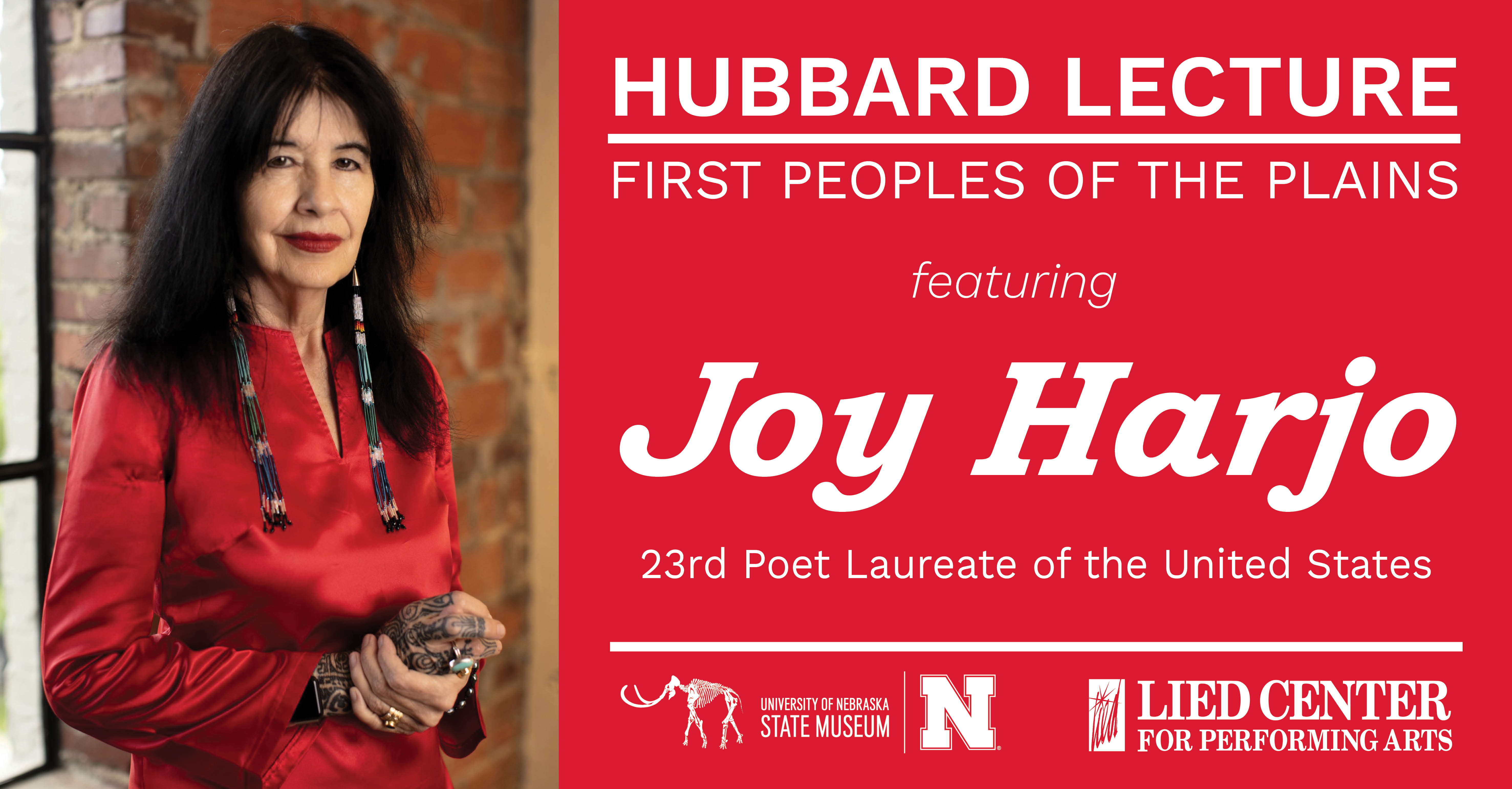 This year's featured speaker is Joy Harjo, the 23rd Poet Laureate of the United States. She will provide a poetry reading followed by a question-and-answer session.
EVENT DETAILS:
Date: Thursday, November 9, 2023 Time: 5:00 pm (doors will open 1 hour early at 4:00 pm) Location: Lied Center's Johnny Carons Theater, 12th & R St., Lincoln, NE Cost: FREE, but advance tickets required Streaming: Event will be streamed live for free. https://ianrmedia.unl.edu/live-2
ABOUT THE SPEAKER:
Born in Tulsa, Oklahoma, Harjo is an internationally renowned performer and writer of the Muscogee (Creek) Nation In 2019, Joy Harjo was appointed the 23rd United States Poet Laureate, the first Native American to hold the position and only the second person to serve three terms in the role. She is the author of nine books of poetry, several plays and children's books, and two memoirs. Her many writing awards include the 2022 Ivan Sandrof Lifetime Achievement Award, the 2019 Jackson Prize from Poets & Writers, the Ruth Lilly Prize from the Poetry Foundation, the 2015 Wallace Stevens Award from the Academy of American Poets, and the William Carlos Williams Award from the Poetry Society of America. She is a chancellor of the Academy of American Poets, Board of Directors Chair of the Native Arts & Cultures Foundation, and is artist-in-residence for the Bob Dylan Center. A renowned musician, Harjo performs with her saxophone nationally and internationally.
The annual Hubbard Lecture: First Peoples of the Plains is made possible by generous contributions from Dr. Anne M. Hubbard and the Claire M. Hubbard Foundation.