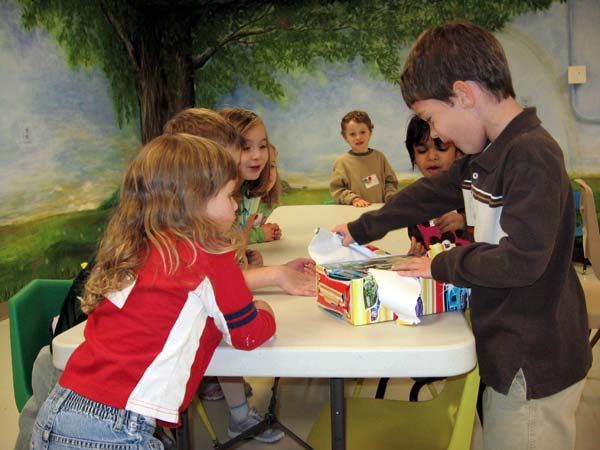 Birthday Parties
Party Themes
Birthday parties with exhibit activities:

Treasure Hunt
Recommended for ages 6 to 10
Morrill Hall ROCKS! Hunt through our museum to find a treasure trove of colorful rocks and minerals. With clues hidden in several galleries, you may also find some serious fun!

Archie's Fossil Adventure
Recommended for ages 4 to 10
Be a paleontologist! Discover the many cool fossils displayed in Morrill Hall, including "Archie," the very special (and very BIG) mammoth who stands at nearly 14 feet tall. Meet sea creatures and amazing mammals that once roamed your backyard! We'll also check out dinosaurs! Don't worry—they rarely bite.

Bizarre Beasts
Recommended for ages 6 to 10
Discover some of the most bizarre creatures that have ever roamed the planet. We'll go back in time to explore silly and strange ancient animals from all over the world. This prehistoric party is sure to bring lots of gasps and giggles.
---
Birthday parties with planetarium shows:
Saturdays only at 10:00 am or 1:00 pm. Get ready to blast off! Premium seating for one fulldome movie is included with this stellar party:

Mesozoic Mania
Recommended for ages 6 to 10 
Navigate through the air, land, and sea to discover fossils from all over the world. Some might even be from Nebraska!

One World, One Sky
Recommended for ages 4 to 7 
On Sesame Street Elmo and his friend, Hu Hu Zhu, learn about the Moon and constellations. Big Bird encourages them to use their imagination to travel and explore space!

Cosmic Adventure
Recommended for ages 6 to 10 
This high speed adventure for family audiences takes you on a roller coaster ride from the Moon through our solar system, galaxy and beyond. You'll be immersed in some of the most amazing sites in the universe. It's a ride you will want to take again and again!