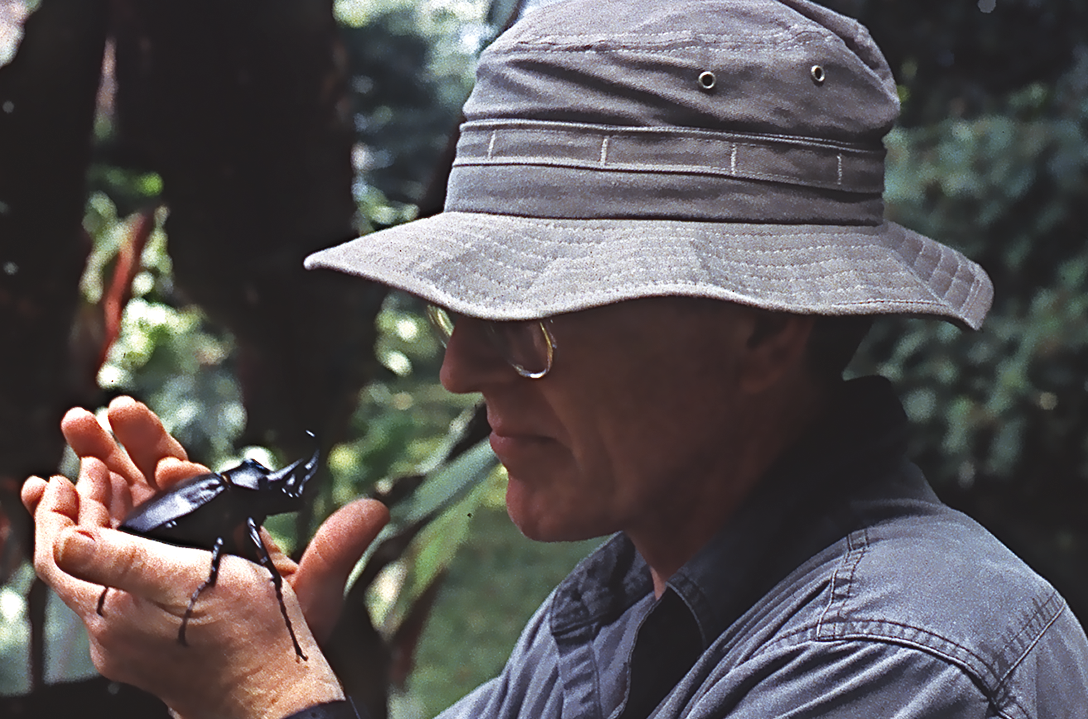 Behind The Scenes
Ratcliffe's Scarab Passion Leads to Discovery
Ratcliffe's Scarab Passion Leads to Discovery
Nebraska's Brett Ratcliffe has made a career of exploring darkened rainforests and expansive museum collections to discover new insect species - particularly those related to colorful scarab beetles.
Now, his most recent finds - which are featured in "A Monographic Revision of the Genus Gymnetis Macleay, 1819" - would warm the heart of the Mother of Dragons and gratify "Game of Thrones" fans.
The new beetle species are named after the three dragons that strike fear across Westeros in the George R. R. Martin book saga "A Song of Ice and Fire" and the accompanying "Game of Thrones" television series. The discovery is part of Ratcliffe's decades-long research project documenting flower scarabs that live in Central and South America.
"It's sometimes a challenge to develop new names for new species," Ratcliffe said. "Because I like to inject humor into my science writing, I decided to use the names of the 'Game of Thrones' dragons and to honor the creativity of George Martin."
The new book features 56 species of the beetles, including eight new species. The species named after the dragon are: Gymnetis drogoni, a dark-reddish brown and dull yellow beetle from Colombia, Ecuador, Brazil, Argentina and Paraguay; Gymnetis rhaegali, a mottled-orange and dull-grey to black specimen from French Guiana; and Gymnetis viserioni, a bright-orange specimen adorned with diffuse, black lines and spots, found in Panama, Colombia, and Ecuador.
Ratcliffe's book is the culmination of 40 years of research on this particular insect group. The publication allows for accurate identification of all the species presented alongside geographic distributions and life history information.
"The monograph can be used as a resource for biodiversity scientists and students, natural resources managers, museum professionals and anyone interested in natural history," Ratcliffe said.
A professor of entomology, Ratcliffe has worked for the last 50 years at the University of Nebraska - Lincoln, cataloging the taxonomy, natural history and behavior of scarab beetles. He has discovered more than 200 new insect species and is recognized as an international expert on scarabs.
Ratcliffe's 60-plus-year passion for insect discovery grew from a childhood hobby.
"I mounted my first insect collection using shirt pins and a cigar box when I was 10 or 11 years old," Ratcliffe said. "My dad was in the Air Force, so we moved every four years. That first collection was from when we lived in Warner Robins, Georgia."
A move to Japan in 1958 helped expand Ratcliffe's love for insects. Entomology was - and still is - popular amongst Japanese children, and stores devote entire sections to books, specimens and collection kits dedicated to the hobby.
"It seemed that all the Japanese kids were collecting insects like American kids collected baseball cards," Ratcliffe said. "There was this esprit de corps, a camaraderie, between the military brats and Japanese friends that we shared while collecting. It was a great and thrilling time."
After stops at other Air Force bases (including Roswell, New Mexico) the family landed at Bellevue, Nebraska, for most of Ratcliffe's high school career. After graduation he enrolled at the University of Nebraska, where he would earn his bachelors, masters and doctoral degrees, all with an entomological focus.
"Generally, you want to get your degrees from different universities so you get a variety of experiences," Ratcliffe said. "I was so ensconced and in love with the collection at Nebraska that I never left."
While at Nebraska, Ratcliffe has published more than 200 scientific publications and 11 books on the taxonomy, natural history and behavior of scarab beetles. His lab is known as Team Scarab, and he is responsible for bringing to Nebraska the Smithsonian Institution's U.S. National Collection of Scarab Beetles.
Under his leadership, the University of Nebraska State Museum's scarab beetle collection has grown to be among the five largest in the world. And, his passion led to earning the 2001 Outstanding Research and Reactivity Award, the University of Nebraska's highest honor for research, teaching and engagement.
Ratcliffe has searched for scarabs in the wilds of Central and South American rainforests in each of the last 45 years. His team collects for up to four weeks on a trip, working at night with light traps that draw insects by the thousands.
"Night in the rainforest is my favorite time," Ratcliffe said. "It's humid, but it almost always gets cool. And this wonderful cacophony of noise from frogs and katydids is the background as we work."
As insects smack into the sheets and fall to the ground, the team gathers the finds into jars. At breakfast, the specimens are sorted and packed away for travel back to Nebraska, where they are mounted, labeled and studied.
"We take as many beetles as we can because it's impossible to tell the different species apart unless we get them back to the lab and under a microscope," Ratcliffe said. "The exploration and discovery of new knowledge continue to inspire me. I've said this before: To me, this is not a job. It's a passion."

Ratcliffe's book, which was published through the University of Nebraska State Museum, can be purchased at the Discovery Gift Shop inside Morrill Hall.
Author: Troy Fedderson, Internal Communications Director, University Communication, University of Nebraska-Lincoln