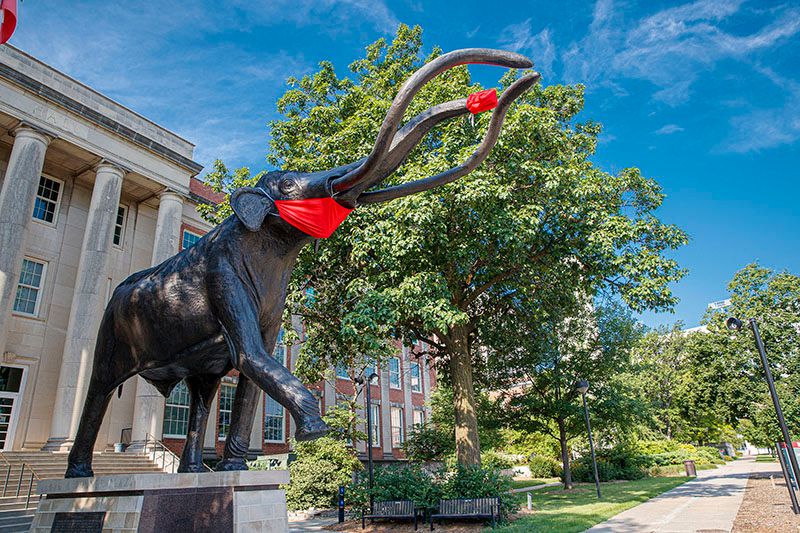 Visit
Visit
Advance ticket purchase & face coverings REQUIRED
Morrill Hall Public Hours:
Morrill Hall will operate under reduced hours to accommodate additional cleaning procedures and allow for social distancing of visitors. The Museum will be closed to the public Mondays and Tuesdays and we are not offering our Thursday evening hours. Thank you for your understanding. 
| | |
| --- | --- |
| Monday-Tuesday | CLOSED |
| Wednesday-Saturday | 9:30 am-4:30 pm |
| Sunday | 12:30 pm-4:30 pm |
*Our gift shop will be open from 10:30am-4:30pm Wednesday-Saturday and 12:30-4:30pm Sunday. 
mask policy & Social Distancing
Face coverings are REQUIRED for all visitors over the age of 3. This is a University of Nebraska-Lincoln policy in place for the safety of our visitors and staff.
Visitors without a face covering will not be admitted to the Museum.
Masks will be available for purchase at cost for visitors who do not have a face covering with them at time of visit.
Failure to wear a face covering during visit to Morrill Hall is grounds for removal from the Museum without refund of ticket. 
We request visitors adhere to a social distancing of 6 feet between themselves and any parties that are not theirs while exploring the Museum. Some interactive displays may have a capacity limit of one party at a time.
Restrooms will be open. One family or social group at a time is encouraged. Guests are encouraged to follow recommended hand-washing procedures.
Hand sanitizer stations will be available for visitor use throughout the Museum.
We have increased our daily cleaning schedule frequency. As a result, some interactive displays may be momentarily unavailable while staff carry out mid-day cleanings. We appreciate your patience and understanding as staff work to maintain a clean and safe environment for everyone. 
Museum Admission
| | Museum Admission |
| --- | --- |
| Adults (ages 19+) | $8.00 |
| Children (ages 5-18) | $4.00 |
| Young Children (ages 4 and under) | FREE |
| Seniors (ages 65+) | $7.00 |
| Active/Veteran Military (with ID) | $7.00 |
| Museums for All* | $1.00 |
| UNL Students/Faculty/Staff (with UNL NCard) | FREE |
| Museum Members | FREE |
| ASTC Members (with member ID card) | FREE |
*Museums for All is a special admission rate offered for those families or individuals who present a SNAP EBT or WIC card at entry. 
**Planetarium admission is separate from, and in addition to, museum admission.
Planetarium shows are not recommended for children ages 3 and under. 
Ticket sales for planetarium shows (fulldome and laser) end 10 minutes before show time.  Visitors may only receive planetarium show ticket refunds before the scheduled show. There will be no refunds once a show begins. If a visitor arrives late, they have the option of seeing the next available show that day only.
Amenities & Exhibit Closures
The following exhibits or portions of Morrill Hall are closed at this time:
Marx Discovery Center (1st floor)
Mueller Planetarium (2nd floor)
Exploration drawers within the Science Exploration Zone of Cherish Nebraska (4th floor)
Watershed table within Cherish Nebraska (4th floor)
All water fountains within the Museum will be inaccessible; water bottle filling stations will be available. Visitors are allowed to bring in their own water bottles and infant bottles or baby formula. All other food and beverages are prohibited inside the museum. Picnic tables outside the museum may be used to consume food and drink items. Visitors are encouraged to social distance while using picnic area.
The following exhibits within Morrill Hall will be open:
Hall of Nebraska Wildlife (1st floor)
Elephant Hall (2nd floor)
ISS above (2nd floor)
Mesozoic Gallery (2nd floor)
Torren Gallery of Ancient Life (2nd floor)
Life in the Past Lane (2nd floor)
Bizarre Beasts (2nd floor)
Explore Evolution (3rd floor)
First Peoples of the Plains (3rd floor)
H2O Today (3rd floor)
Minerals & Meteorites (3rd floor)
Jurassic Dinosaurs (3rd floor)
Weapons Throughout Time (3rd floor)
Cherish Nebraska (4th floor)
Visible Lab (4th floor) -- operating Wednesdays-Fridays on reduced hours.