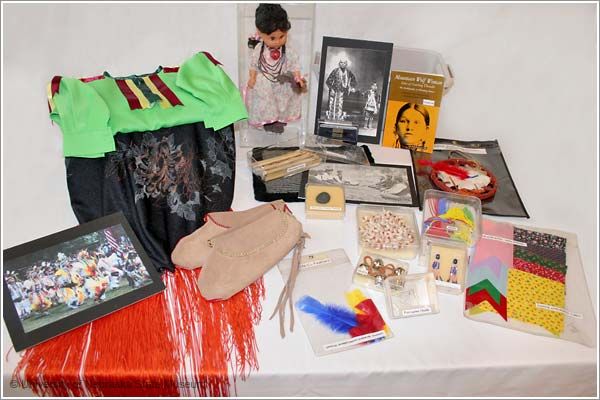 Encounter Kits
Winnebago Tribe
Mini-collections bring the museum to your classroom.
Encounter Kits
Large kits include a teacher's guide, specimens, and five fun activities for learning.
| | |
| --- | --- |
| Fee: | $35.00/week + return shipping |
| Rental duration: | 1 week |
| | |
Teacher's Guide
Summary of Contents
ACTIVITY ONE - WINNEBAGO FOLKLORE
Learning Objective:
Students learn Winnebago beliefs through the myths and legends.
Contents:
9 Folklore/Stories:
      Ma-Ona and the Creation of the World
      The Young Hunter's Blessing
      The Trickster and Winnebago Custom
      Wak'djunk'aga and the Car
      Wak'djunk'aga's Quest For Food
      The Rabbit and the Grasshoppers
      Origin Story of Lake Winnebago, Wisconsin
      Wak'djunk'aga and the Eagle
      Origin of the Winnebago Chief
Book: Mountain Wolf Woman
---
ACTIVITY TWO - WINNEBAGO CLANS
Learning Objective:
Students will learn about Winnebago clans, their responsibilities and totems.
Contents:
1 Clan Name List Activity Card
12 Old Winnebago Clans Activity Card
12 The Winnebago Council Lodge Activity Card
Winnebago Clan System Notes Worksheet
Story: The Origin Story of the Winnebago Clans
---
ACTIVITY THREE - WINNEBAGO DANCE AND SONG
Learning Objective:
Students will learn the Winnebago Round Dance and songs.
Contents:
Winnebago Round Dance Steps Activity Card
Video cassette: On the Round Dance
Audio tape: Round Dance Songs
Costume items (in large box): Shirt, shawl and moccasins
Envelope specimen: 6" Satin ribbon / calico
---
ACTIVITY FOUR - WINNEBAGO ANNUAL HOMECOMING CELEBRATION POW WOW
Learning Objective:
Students will make their own Winnebago dance regalia.
Contents:
Fry Bread Recipe Activity Card
Medicine Wheel Activity Card
Video: The Winnebago Annual Homecoming Celebration
Box Specimens: Sea Shell Necklace
Box Specimens: Sea Shells
Box Specimens: Beads
Box Specimens: Earrings
Box Specimens: Porcupine Quills
Box Specimens: Jingles / Bells
Envelope Specimen: Feathers
Envelope Specimen: Medicine Wheel
Large Box Specimen: Doll
3 Mounted Prints
Poster: Laurie Houseman-Whitehawk painting
---
ACTIVITY FIVE - WINNEBAGO MOCCASIN GAME
Learning Objective:
Students will learn to play a Winnebago leisure time game.
Contents:
2 Activity Cards
Video: The Moccasin Game
Audio tape: Moccasin Game Songs
Box specimen: Pebble
Box specimen: Counting Sticks
Envelope specimen: Moccasin Pillows
Other specimen: Striking Stick