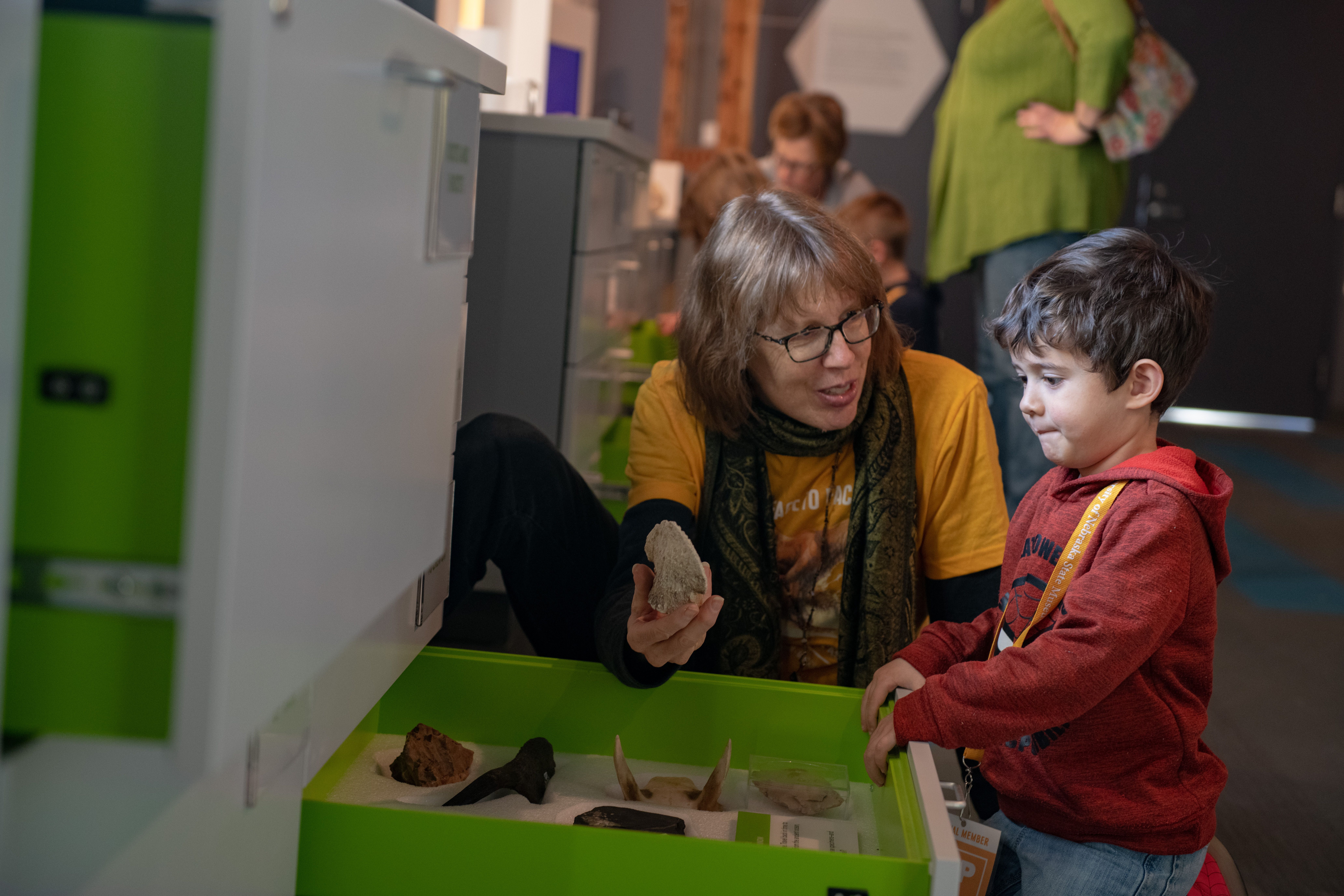 Programs & Events
Summer Day Camps
Day Camps are going Virtual. Registration is open!
Join us for mammoth amounts of science exploration and fun!   
Join us virtually to explore natural history and science topics. Kids will become scientists as they explore, observe, and experiment, all with the help of our experienced educators.
About Virtual Camp
Virtual Camps are held via a Zoom video call. During camp, kids will be able to see and interact with other campers and their instructors. A computer or tablet with video, sound, and microphone capabilities will be needed so campers can see and hear each other. We do not recommend using a cellphone, as a smaller screen will make it more difficult to see and interact. A wireless headset can be used. Prior to each class, you will receive more information about how to use Zoom and a link to join the Zoom call. 
We have partnered with Outschool to provide personal, fun, live online camps for kids, straight from our galleries and are led by our skilled educators. Campers will have a blast exploring and using their science investigating skills!
Outschool is an online platform for live classes and camps. You must register for free to become an Outschool member to enroll in one of our camps. Our camps are offered on this platform for a minimal fee. For the best experience, class sizes are limited to 15 students.
Grades 1st-2nd
Backyard Bugs
Look out below! We'll be exploring the mini and mighty critters underfoot that often get overlooked. Each week we will examine our crawly invertebrate friends and their importance to the world around them by seeing live insects, spiders, and worms up close under the microscope, reading stories, moving our bodies, and exploring the Museum...virtually! Cost: $50 per camper per session. Register here>
      Session 1: 
          June 8 - Spiders
          June 15 - Worms
          June 22 - Pollinators
      Session 2:
          July 15 - Spiders
          July 22 - Worms
          July 29 - Pollinators 
Grades 3rd-5th
Nature Sleuths
Ever walk through the woods and think –what left that pawprint? Gross, whose poop is that? We can use clues like tracks, scat, and sounds to identify our animal neighbors and learn about their lives. In this three session camp, we'll be nature sleuths, looking for clues about the natural world. We'll use our eyes and ears to observe and explore the Museum...virtually! Cost: $50 per camper per session. Register here>
        Session 1: 
            June 3 - Animal Homes
            June 10 - Predator & Prey
            June 17 - Poop & Paws
        Session 2:
            July 13 - Animal Homes
            July 20 - Predator & Prey
            July 27 - Poop & Paws 
Drawing the Ancient World
We'll roam our museum, explore fossils and ancient tools, meet and learn from working scientists, and then craft and create to make your home come alive with bold works of ancient worlds!  Bring your pencils, scissors and glue! Cost: $100 per camper per session. Register here>
      Session 1: June 7-10
      Session 2: June 28-July 1
Museum Makers
It's storytelling time with your favorite collections (rocks, stuffed animals, seashells, old Oreo cookies, whatever!) as you use words, art, and passion to create your at-home museum! Cost: $100 per camper per session. Register here>
      Session 1: June 15-18
      Session 2: July 6-9
Fossil Investigations
Discover what rocks! Explore what fossils and rocks reveal about the Earth's amazing history. Campers will take a journey through time to explore rich fossil history, from ancient sea creatures to mighty mammoths. Cost: $100 per camper per session. Register here>
      Session 1: June 21-24
      Session 2: July 19-22
Grades 4th-6th
Archaeology Adventure
Join us for an archaeology adventure where you'll excavate your own dig site, meet and ask questions to archaeologists, and learn about archaeological methods for understanding human history! We'll look at gallery exhibits and Museum collection objects and artifacts from around the world to develop skills in archaeology and anthropology. Cost: $100 per camper per session. Register here>
      Session 1: June 28-July 1
      Session 2: July 12-15